Síganos en redes sociales
More on Team Colombia
(Translation by @nsantam)
This entry is an extended version of the article by Gustavo Duncan published in El Tiempo on September 10th, 2015 (Spanish).
Sometimes corruption involves a lot of scheming and plotting, other times, its bounty is handed on a silver platter, smoothly and without breaking any laws.
Every year Coldeportes (the government organization that manages competitive sports in Colombia) gives around 3 million euros to Claudio Corti to manage Team Colombia. It seems that his name has casted a spell on our naive directors at Coldeportes because after four years his results are more mediocre than modest. In 2015 Team Colombia is the only professional cycling team without victories and currently ranks 14 (out 20) in its category. A poor performance that could be justified by Corti using the lack of money as an excuse. However, teams with fewer resources have achieved better results than Team Colombia. For example, team Caja Rural from Spain accumulated a total of 16 victories this year with 1 million euros less in their budget (Source).
A ship adrift
Team Colombia was created in 2012. The main objective was to have an all-Colombian cycling team racing again in the grand tours at Europe. In these 4 years the team competed twice in the Giro d' Italia and once in the Vuelta a España, without winning a single stage. The best results are three 2nd places from Fabio Duarte in the Giro (Stage 20 in the 2013 Giro and Stages 15 and 18 in the 2014 Giro), and Rodolfo Torres' 2nd place in the Vuelta (Stage 16 in the 2015 Vuelta).
In 2014 the team seemed to change its initial main objective. It was no longer to develop a visible winning team eyeing a World Tour (WT) license after two or three years, instead, its mission became to showcase its riders so they could join a WT team and advance their cycling careers. What is curious about this change of heart, is that the roster includes many experienced cyclists or cyclists at the end of their careers. Looking at the age of the riders, 12 out of the 19 cyclists are 26 year old or more. In every light, this is not a team that showcases new upcoming talent.
A summary of the victories achieved by Team Colombia to this day is presented below.
2016: 6 wins
-Stage 4 – Giro del Trentino (Darwin Atapuma)
-Prologue – Vuelta a Colombia (Fabio Duarte)
-Stage 5 – Vuelta a Colombia (Juan Pablo Forero)
-Stage 5 – Vuelta a Burgos (Esteban Chaves)
-GP Cittá de Camaiore (Esteban Chaves)
-Coppa Sabatini (Fabio Duarte)
2013: 3 wins
-Stage 6 – Tour of Poland (Darwin Atapuma) *WT race
-Stage 1 – Tour de L'Ain (Leonardo Duque)
-GP Bruno Beghelli (Leonardo Duque)
2014: 3 wins
-Stage 1 – Tour of Langkawi (Dúber Quintero)
-Colombian National Championship Road Race (Miguel Angel Rubiano)
-Stage 2 – Vuelta a Colombia (Jeffrey Romero)
2015: 0 wins
As we can see, the results get worse by the year in both quantity and quality. Points, mountain, best young rider, most combative and best team prizes are not equivalent to victories in cycling. As their name indicates they are prizes. Victories are granted by being the first wheel crossing the finish line, or winning the GC in a stage race. This lack of results, however, does not seem to trouble Corti at all (Source). The cyclists are not to blame (an argument that Corti's supporters will provide with certainty). The ones at fault here are the technical staff and the sports directors of the team. We have plenty of quality raw materials when it comes to cycling. The proof is given by the Nairos and Rigos that are able to perform at the highest level supported by a proper management of their teams. The blame of the demise of Team Colombia should rest exclusively on the petty and incompetent management.
It does not take much to see that improvisation is the rule when it comes to plan a season for Team Colombia. Looking at the racing calendar at different times this season, we were able to confirm with astonishment, that the list of races did not go further than 4 months in the horizon, and that the team was still waiting to get an invitation for more than half the races. Professional cycling at his highest competitive level, has become a sport that is technologically sophisticated and precise when it comes to preparation for a season. Without knowing what races is the team supposed to compete, and waiting to get invitations once the season starts, it is impossible to prepare the cyclists physically and psychologically for what lays ahead, getting them to race in their best possible shape. With such a calendar two strategies follow to try to get results: to improvise or to hammer things in. If something is accomplished during the season, it will come from a spontaneous spark of individual quality, since the cyclists are also not provided with serious training plans either. The directions the cyclists receive from the team physical trainers can be summarized in a sentence: "go put kms on the legs and try to lose weight".
Sometimes the improvisation is hard to hide, and they look more like an amateur team. The team showed up at the Giro del Trentino in 2014 with 6 riders, instead of the 8 it had assigned (Source). Races in Italy are the main component of the calendar, with most of them being one-day races that seldom adjust to the profiles of the team riders. We've seen climbers being selected to compete in flat races, and rouleurs selected to compete in mountainous races (for example, the team chose to take Leonardo Duque and Juan Esteban Arango to the 2014 Giro del Trentino in which 3 out 4 stages were mountain stages).
The goal in every race is not to win but to get in the breakaway, whatever it takes, to "show the jersey" and give some publicity to the sponsor that supplies the bikes for the team. This way, conformism and impotence start to prey on the cyclists.
Chala: we all need to provide for our homes so we need an answer
Jarlinson Pantano: I think it's fair to ask for an explanation regarding our delayed salaries..
Jonathan Paredes: behind us there are more people being harmed because of the delays. Debts don't wait…
(Link to Team Colombia retrasa sus pagos (Spanish, 2014))
And every year we witness a delay in the salary payments to the riders. It is no wonder that some of them do not feel valued and lose motivation. Some like Robinson Chalapud (current Colombian National Road Champion) and others have spoken openly about it, while others do not dare to do so and prefer to discuss the issue only in private. As a result most of them look for a way out of Team Colombia, even if it means racing for a local team in Colombia making less money. Few like Atapuma, Chaves or Pantano are able to join a WT team.
"Deje el Team Colombia, porque allí nunca me sentí valorado". Palabras textuales de Robinson Chalapud, nuevo líder del Orgullo Antioqueño.

— Pablo Arbeláez R. (@PARbelaezR) octubre 30, 2014
"I left Team Colombia because I never felt valued". Verbatim from Robison Chalapud, new leader of the Orgullo Antioqueño.   (Orgullo Antioqueño is a Colombian cycling team)   
@alexiscamacho_1 @luisenciclismo @drjhonjairogilm @BiciGoga el problema del Team Colombia es fácil solucionarlo cambiar D.T Y LA CABEZA — chala (@robinsochalapud) marzo 27, 2015
It is easy to fix the problem with Team Colombia change D.S AND THE HEAD.
We also see a meager approach with it comes to managing the team money. Corti likes to minimize costs. He is an old school director, and as such, he does not believe in using scientific methods to train the cyclists, a given in modern professional cycling. It took him a year to adopt power-meters, an elemental tool to improve cycling performance nowadays. The brand he chose was iBike, one of the most inexpensive, but also unreliable brands available in the market; given the high margin errors the power data it is of no use in training and in competition (Source).
A similar cost minimizing strategy is applied to air travel. To save money, the cyclists are to remain in Italy most of the season, losing the advantage they have at home by training at altitude. Teams like Sky, Astana, Tinkoff and Movistar spend good money taking their cyclists to altitude camps in Teide (Canary Islands) and Sierra Nevada (Granada). Corti has the chance to do a less expensive training camp at altitude in Colombia, but instead a house in Italy much more closer to sea level is the place chosen to train. The cyclists are forced to travel to northern Italy during January and February in the midst of the European winter, where subfreezing temperatures -conducive to roller training- are more common than not.
What is behind Corti's motivation for these demands, clearly disadvantageous for the performance of Team Colombia's cyclists? Logic dictates that under such conditions they cannot be expected to perform, since they start the season without the proper physical and mental shape. When riders ask to go back to Colombia to train in altitude and better weather, Corti requires they pay the airfare by themselves.
The exception that makes the rule in Corti's cost minimizing approach to professional cycling, is the hiring of his son Marco Corti, first as a pro cyclist and now as an assistant. The only Colombian in the staff, Oliverio Rincón, performs more as an "errand boy" than a sports director, driving a car transporting people and materials.
Perhaps the most outrageous piece of evidence about the lack of direction came in the form of a video by the newspaper AS, before a stage in the Vuelta a España this year. The video was supposed to show Valerio Tebaldi giving a tactical speech before the stage, but there is no talk about the race course, rivals or anything, just a "try to get in a breakaway" and "oh, and do not forget to protect your leader". Such is the indolence in Tebaldi's tactical advice, that the demoralized faces of the cyclists say it all. One of them dares to ask what is the point of wasting energy to try to breakaway, when it is clear the peloton will control every move. A completely demotivated cycling team leaves the bus minutes after.
See video here (Spanish)
Sadly Team Colombia was placed in the wrong hands from the beginning. Corti is a director from the last century, with all its meaning. Laurent Fignon pointed out in his memoirs that Corti tried to induce him to use EPO when he joined the Gatorade-Chateau D'Ax team in 1992.
But leaving aside little details like that from a cycling's old school director, perhaps the fatal flaw lies in Corti's endeavor to make money. If Coldeportes decides to stop the sponsorship, he will have enough money to start something new. He has a record when it comes to bury cycling teams; his past has a horrible failure with a South African team, and a later one with Barloworld. In 2006 Corti took the reins of Barloworld, dismissing all its English structure, only to have it fold in 2008, when a positive for EPO from spaniard Moisés Dueñas in Stage 10 of the Tour de France was announced (Dueñas was top 10 in the GC). After French Police took Dueñas in custody they found doping products in his room, which he was sharing with a Colombian cyclist, Félix "The Cat" Cárdenas. After Dueñas was arrested, various riders from Barloworld abandoned the race in strange ways. It would not be a surprise if Team Colombia becomes the next entry on "Corti's defunct teams palmarés".
Corti has the traits of a trickster and he is making a living from scamming Colombians, with the complicity and collaboration of Héctor Urrego and other sports journalists like Aicardo Torres. Last year when he was lobbying Coldeportes, he stated the team had a chance to get a wildcard invitation to the Tour de France. The monstrous lie worked its magic and got him one more year of sponsorship. He asked for money without promising specific results, and he got away with it.
Every year his visit to Colombia to ask Coldeportes for more money comes with smiles and slick maneuvers. No one professes more proud of the Colombian riders than he. However, in Europe, he criticizes them harshly, declares they lack professionalism and shares private aspects of their lives with the press. In an interview with L'Equipe during the last Tour de France he showed some of his true colors. Hopefully the interview will make its way to the Colombian officials that deal with him, so they can witness first hand what a great ambassador we have in Corti.
Read L'Equipe interview to Claudio Corti (French)
But even if that interview makes it to Coldeportes, we have little hope for change. One of Coldeportes' directors was invited to the 2014 Giro d' Italia, all expenses paid. He remarked, "Corti is so professional. Every morning the bikes are line up ready, spotless clean with their corresponding food bag for the stage". No comments.
The captain's parrot
We can swallow Coldeportes' director ignorance, with some effort, but what we cannot is the fact that Héctor Urrego, the most experienced Colombian cycling journalist out there, campaigns for Corti to be given an increase of at least 2 million euros in the budget, so Team Colombia could apply for a WT license. Given the current performance, it just does not make any sense. Either Urrego really knows nothing about cycling, or is "playing dumb" for whatever reason.
That whatever reason may be found in the rumors that circulate in the national setting, suggesting Urrego receives a piece of the pie destined to Team Colombia, every year. We do not know if it comes directly from Claudio Corti or from Coldeportes. We know that the amount is close to 60K euros per year, some sources had the contract in their hands for 2012, and were shocked to read such a number was destined to pay Héctor Urrego Caballero. For what services exactly? We do not know.
This should come as no surprise. Back in February, Juan Pablo Villegas touched on this very subject in an interview for Alps & Andes:
"It's how the game is played in Colombia. The teams with the biggest budgets, often backed by government entities, pay members of the cycling media to also act as their press officers. Just imagine if I have a big team. And your website is the biggest cycling website in the country, and on top of that you also own a radio station, let's call it Klaus FM, that is the lone radio voice about cycling. And then I pay you 100 million Pesos to promote my team and my brand…I'm just making up a number by the way…but let's just say that. Well, you own the media outlets, and are being paid by teams, so you ensure that they get their money's worth, and you leave the others out of the coverage. It's that simple. There are conflicts of interest, and teams who don't pay suffer and are not talked about. Period."
Urrego being in the "payroll" of Team Colombia would help explain his lack of objectivity towards the management of the team. He lobbies hard for Corti, hiding the bad planning and poor results with praise for the technical staff and directors. He works very diligently to convince Colombian public opinion that everything is good inside Team Colombia and the results are satisfactory.
Sample interview with Claudio Corti (Spanish)
No matter what prize Team Colombia wins, he is expedient in blowing it out of proportion, like the most combative rider prizes given at La Vuelta a España this year (which were decided by online voting). For this "sports journalist specialized in cycling" every time a rider from Team Colombia shows up in the TV screen, it means the team "is playing a massive role in the stage", when a rider finishes 6 or 10 in a race with the same time of the winner, it is "an excellent result", and when only one or two riders manage to finish (almost always far away from the top, like in 2014 GP Lanciano, were the only two riders that finished came in 30 and 40) he declares it as a "wonderful appearance". And this is supposed to be the journalist that knows more about cycling in Colombia? What a travesty.
With the same ease he praises Team Colombia, he also criticizes ferociously, in the past a 7th place in the GC of Tour de L'Avenir was given no mercy. He has that right, but such lack of consistency discredits him as a "fair and square" type of journalist.
He self-proclaimed to be "the bible of american cycling" and uses his media prominence to push misinformation at will. For example, he claims Team Colombia developed cyclists like Esteban Chaves, Darwin Atapuma or Jarlinson Pantano, hiding the fact that all of them started with "Colombia es Pasión", and achieved their most important victories with that team. Their results with Corti are more on the disappointing side.

But by repeating the same Urrego is, slowly but surely, planting the idea in the general public's mind that Team Colombia is a success and everything they do is perfect. The danger is that he also reaches the minds of the ones with decision power. Lately, Andrés Botero (director of Codeportes) is being asked constantly by Urrego to increase Team Colombia's budget so it can obtain a WT license for 2016.
From where are the UCI points needed to back that application going to come from? Which Colombian cyclists are to be signed? Are those cyclists willing to join a team with no planning or direction by Corti, who refuses to embrace technology for training and competing? For what? To lose their best years as pros and lower their market value?
What the public opinion really needs to hear is an explanation regarding the interests behind is tireless lobby in favor of Team Colombia. His constant flattery of the mediocre results (and we insist, thanks to the precarious management not the riders) and his defense of the team technical staff and directives, make him appear more as a press officer for the team, than an independent journalist. Fueling the rumors about his dealings with Corti.
The ship needs a new captain to straighten its course
Thanks to Urrego we know now that the team is not Colombian, it is private property of Claudi Corti and his Italian court. Team Colombia is as ours as BanColombia (a popular bank in Colombia), Club Colombia beer, the Colombiana soda or the Colombina products. The team only has the name of our country. There is crucial difference between "the team is paid with public money" and "the team has a sponsor that pays with public money", Coldeportes (and we fellow taxpayers) are sponsors, not the owners of the team. Like Willier or Fizik. Coldeportes can audit the 3 million euro it gives to Corti, but is not the owner nor the manager. And this is perhaps the greatest triumph from Corti and Urrego, to convince us Colombians that Team Colombia is "our team".
The Team Colombia is sailing adrift. When it was created (then Jairo Clopatofsky and not Andrés Botero was the director at Coldeportes), the plan was to have Corti as manager, in charge of lobbying organizers to get invitations to the grand tours. All the staff (DS, mechanics, assistants, soigneurs, etc) was supposed to be Colombian, to help develop those professions locally. The idea was to have the cyclists training at altitude in Colombia, like Nairo Quintana, Rigo Urán and other Colombians racing with a WT team do.
But everything went haywire when Andrés Botero gave all the money to Corti and his Italian structure. He changed all the plans and the team lost its north.
Victor Hugo Peña shares some insights regarding Team Colombia: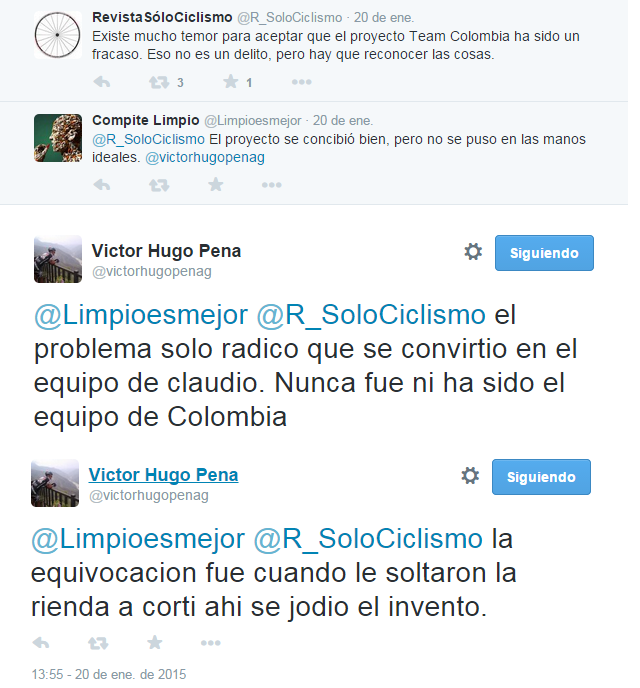 -The problem is that it became Claudio's team. It is not and never was the team of Colombia.
-The mistake was to give lose reins to Corti that screwed up the project.
Right now Team Colombia is a badly managed team that has had a lot of wasted talent on its hands. Corti is not the right person to manage the team. To get back on track, Coldeportes needs to stop wasting money with Corti and look for a new structure. The sooner the better for Colombian cycling. The ideal scenario would be to have an all-Colombian structure, we have after all, some sport directors and physical trainers with qualifications that are honest, share our illusions, are against doping and can think long term. Surely they will achieve more than what the current Italian squad has managed to improvise. We need a renewed team using all the resources it gets from Coldeportes (Colombian taxpayer money) to build a structure that is modern, efficient and capable of making us Colombian fans, dream with the possibility of having our own WT team within reach. We need transparency to make sure the money is not being wasted or stolen. With that and the quality of cyclists Colombia has, getting in the international spotlight should not be so difficult.
Hopefully in 2016 Coldeportes will decide to start a truly Colombian project with the team. But it seems the ones in charge of cycling in our country are not interested in doing so. Until when are we going to put up with the bad management of a team that is supposed to represent our country, and it is sponsored with taxpayer money?
Read more: What does Coldeportes' contract about Team Colombia say? (spanish)